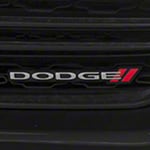 Purchasing a Dodge Charger opens the doors to driving a popular, if not legendary, sporty vehicle. The Dodge Charger relies on regular, mid-grade, or premium fuel depending on the engine. With the traditional engines, ones with 3.6 liters and six cylinders, expect the highest miles per gallon. If you go for more powerful engines, the mpg figure changes.
The 3.6 L/6 Cylinder option yields 23 combined city and highway miles. When driving exclusively in city conditions, the model gets around 19 mpg. Highway driving yields around 30 mpg. If the shopper goes with the AWD version, combined driving changes to 21 mpg. Expect 17 miles in the city and 27 on the highway.
Going with an 8-cylinder/6-liter engine will affect mpg. So does tire inflation and cargo weight. Keep these things in mind when concerned about fuel economy.
Laura Chrysler Dodge Jeep Ram of Sullivan in Sullivan, MO has deals to offer shoppers looking for a Dodge Charger. Ask our sales team about fuel efficiency or anything else.