2020 Dodge Grand Caravan SXT Blacktop Overview, Test Drive and More! #minivan​
2020 Dodge Grand Caravan SXT Blacktop Overview, Test Drive and More!
2020 Dodge Grand Caravan | STK # LGC5954 | Redwater Dodge
Check out this 2020 Dodge Grand Caravan at Redwater Dodge! This van comes equipped with a 3.6L Pentastar VVT V6 engine, Black heated leather-faced bucket seats, SAFETY SPHERE GROUP -inc: Blind-Spot/Rear Cross-Path Detection, ParkSense Rear Park Assist, Remote Start System, B...
The Best Minivans that Will Last Over 300,000 Miles
Check out this exciting list of minivans that are built to last! In this list, you will find that the Dodge Grand Caravan in one of the leading models for longevity and reliability.
Comparing the Honda Odyssey and the Dodge Grand Caravan
The amazing longevity of the Dodge Caravan ensures that all of the advanced functions of the newest minivan are built to last. Family use wears a car down quickly, so ensure that you and your family will fit comfortably. Find out why the Dodge Caravan is a leader in its clas...
ZIP CODES - near 
63011

63069

63101

65584

63021

65401

63303

63005

63080
CITIES near 
Ellisville
Pacific
St. Louis
St. Robert
Ballwin
Rolla
St. Peters
Chesterfield
Sullivan
Since 1984, The Dodge Caravan or Dodge Grand Caravan has been in production. It is now a leading minivan, outfitted with various quality of life upgrades and family friendly features. Currently, the Dodge Caravan is designed in its fifth generation, featuring a modern interior and exterior and outfitted with a host of cutting-edge technology.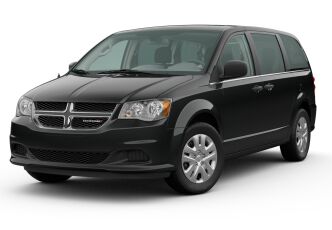 Dodge Grand Caravan SE
$27,530
Additional cargo space thanks to the cutting edge Third-Row Collapsible Seating and Storage System with Additional Tailgate Seating
Surround sound, Premium Six-Speaker Audio System
6.5-inch infotainment screen with touchscreen functionality and included reverse camera
Additional Powered Second-Row Passenger windows and Back Row Quarter Vents
Dodge Grand Caravan SXT
$32,995
Additional cargo space thanks to the cutting edge Third-Row Collapsible Seating and Storage System with Additional Tailgate Seating
Easy Access for passengers with Dual Power Sliding Doors
Increased Tech for Driver Assistance found in the Super Console
Easy Access Trunk with Power Liftgate
Deluxe Leather upholstered Seats with Additional Interior styling from Suede Inserts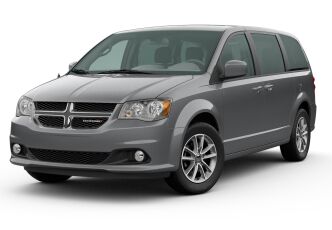 Dodge Grand Caravan SE Plus
$30,330
Fully Customizable Driver Seat Positioning with personalized Two-Way Power Lumbar Support
Additional Covered Storage with the Floor-Mounted Console with Four Cup Holders
Keyless Entry and Push to Start Functionalities
High-intensity Fog Lamps for added safety
Additional cargo space thanks to the cutting edge Third-Row Collapsible Seating and Storage System with Additional Tailgate Seating
Frequently Asked Questions
What Types of Repairs Are Common for the Dodge Grand Caravan?
Dodge released the current generation of Grand Caravan in 2008. Since this recent generation, drivers have experienced issues with father than normal wear of brakes, engine stalls, stick gear changes, transmission shortcomings, and air conditioner faults. All of these are covered by various warranties offered at Dodge. Some factory recalls are also replaceable and repairable for free.
What is the lifespan of Dodge Grand Caravan's Transmission?
The Dodge Grand Caravan has an average transmission life of 130,000 to 180,000 miles. This is all dependent on individual use and driving habits. Taking good care of your vehicle will prove to be beneficial to the lifespan of your Gran Caravan.
How Do Dodge Caravans Handle in Snowy Conditions?
If you and your family are exposed to snowy driving conditions, it is important to feel safe and in control of your vehicle. The standard front-wheel drive makes for easy handling in snow. The Grand Caravan is tested and ensured to work in moderate snow levels and conditions. The range of safety features and add-ons make the Dodge Grand Caravan one of the best performing minivans in snowy weather.
What is the Average Lifespan of the Dodge Grand Caravan?
Many older models and previous generations have expressed that the lifespan can last around 14 years! With proper maintenance and care, any car will enjoy a long life with continuous functionality. Newer models are made with many efficient parts, offering potential for even longer use.
About 
Laura Chrysler Dodge Jeep RAM

 Sales Department

When it comes to finding your next vehicle, you've got options in the St. Louis area. We may not be located in a bigger city, but in 2019 and 2020, our dealership was the #1 volume Ram dealer in the midwest business center! At Laura Chrysler Dodge Jeep Ram in Sullivan, Missouri, you'll find a group of dedicated professionals ready to help you in your automotive buying or automotive ownership experience. If you're looking for a dealership near Rolla, St. Louis, Springfield or the surrounding areas, you owe it to yourself to visit Laura Chrysler Dodge Jeep Ram.
REVIEWS
from our 
 Customers
Rupsia K. 
We got to work with JD DeLong. He was awesome and very straightforward with everything we wanted to know. It made our experience pretty smooth as compared to a few other dealerships we'd visited. The process of test driving was pretty fast and the transaction was as transparent as we could have asked for. I would definitely do business with them again.
Tonia Hazel 
This was our first time purchasing from Laura Chrysler Dodge Jeep RAM, but it was a really positive experience from beginning to end. We worked with Nick Polanowski for the sales process and my husband did the majority of the discussions …
Bryan Fitzgerald 
Great experience. Very straight forward honest people. I traveled 1600 miles and I made the right decision. I will buy from them again. Mike and Rich were great. Thanks
Gregg Daly 
The show room was very nice and clean. My salesman Richard Blue was courteous and friendly and I would go back to him and the dealership again. The only down side is that they were busy and I had to wait 2.5 hours to sign the documents with …
Amanda Eaton 
Went in December 2020 to find a van. Sales person Mark helped us find the perfect one but it still needed work before we could get it. It took them a while to get it ready but they fixed every problem so when I was able to pick it up it was completely safe and clean for me and my family. Will definitely go back for another vehicle.
Laura Chrysler Dodge Jeep RAM

 Sales Hours

Monday08:30 - 20:00

Tuesday08:30 - 18:00

Wednesday08:30 - 20:00

Thursday08:30 - 18:00

Friday08:30 - 20:00

Saturday08:30 - 17:00

SundayClosed
Dodge Grand Caravan in Ballwin
 | 
Dodge Grand Caravan in Chesterfield
 | 
Dodge Grand Caravan in Ellisville
 | 
Dodge Grand Caravan in Pacific
 | 
Dodge Grand Caravan in Rolla
 | 
Dodge Grand Caravan in St-charles
 | 
Dodge Grand Caravan in St-louis
 | 
Dodge Grand Caravan in St-peters
 | 
Dodge Grand Caravan in St-robert
 | 
Dodge Grand Caravan in Sullivan