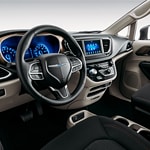 Why would you purchase a vehicle that does not deliver as it should? Here at Laura Chrysler Dodge Jeep Ram of Sullivan its value for the money, we care about. That is why we introduce the Chrysler Voyager that will satisfy all your needs when it comes to your vehicle.
This Chrysler Voyager serves you with a nine-speed transmission engine that enables you to accelerate smoothly. The engine is a 3.6L V6 engine making a 287 Horsepower, quite an impressive engine. When it comes to fuel economy, the Chrysler Voyager gives an outstanding performance of 19mpg around the city and 28 mpg on the highway. In fuel economy, this is the best choice you can have.
The Chrysler Voyager is the right choice if you are looking for a minivan with superb performance, technology features, and infotainment. Additionally, this vehicle is budget-friendly. The Chrysler Voyager is versatile and delivers a smooth ride.